Change/Update of Address

(Health, Settlements and Elections Processes)
The deadline for this application is Tuesday August 3rd at noon
KZA-GBFN Announcements & News
July 21st, 2021
How to obtain proof of your Vaccination
Please note that this is the ONLY acceptable proof that will make you eligible for cross-border travel.
Follow the link below and enter the information found on your health card.
July 20th, 2021
Cravings & Triggers: How to get through them without relapsing – tips for addiction recovery
July 20th, 2021
COVID-19 Vaccine Information Sheet: For Youth (age 12-17)
This document provides basic information only and is not intended to provide or take the place of medical advice, diagnosis or treatment, or legal advice.
To date, the following COVID-19 vaccines have been authorized for use in Canada by Health Canada: Pfizer-BioNTech COVID-19 vaccine, Moderna COVID-19 vaccine, AstraZeneca COVID-19 vaccine, COVISHIELD COVID-19 vaccine, and Janssen COVID-19 vaccine. Currently, the Pfizer-BioNTech vaccine is the only COVID-19 vaccine authorized by Health Canada for children aged 12 and up.
Please read the Full Article: PDF
July 20th, 2021
After Your COVID-19 Vaccine
What should I expect in the next few days?

•     Common side effects include pain, swelling, colour changes in the skin (e.g. red, purple) at the site where the needle was given, tiredness, headache, muscle pain, chills, joint pain, and mild fever.
Read Full PDF: PDF
July 13th, 2021
Vaccines and Variants
Although restrictions are starting to loosen across Ontario, COVID-19 is not over. New variants that transmit more easily are spreading rapidly. Get your second vaccine dose to protect yourself, your family, and your community. Even after being fully vaccinated, it is still important to continue to follow public health measures.
July 6th, 2021
Pre Health Sciences Pathway
AETS, in partnership with Confederation College, is offering a 22-week condensed Pre-Health Sciences Pathways to Certificates and Diplomas Program starting September 13, 2021. The 2-week Life Skills component will be completed in person (as allowed), followed by 20-weeks of virtual training with Confederation College. The Pathways to Certificates and Diplomas program is for students who want to go to College Health programs such as Practical Nursing, Paramedic and Dental Hygiene. Topics covered include Pre-Health Math, Health Care in Canada, Chemistry, Introductory Biology, and Communications for Health Professionals. Successful completion of CS050 College Writing, CS217 Communication for Health Professionals, and 1 General Elective will support the exemption of these courses in Practical Nursing or other Health fields of study at Confederation College.
June 22nd, 2021
Recovery is not a race. You don't have to feel guilty if it takes you longer than you thought it would.
June 16th, 2021
Why Do Some Addicts Relapse | Addiction Recovery | Recovery 2.0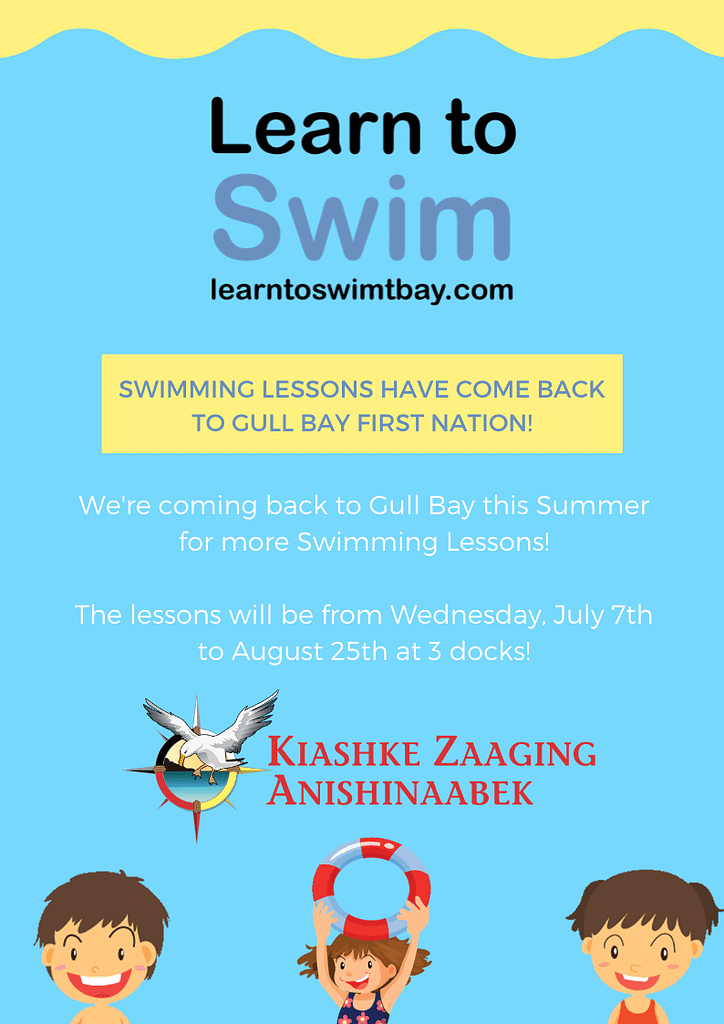 June 15th, 2021
Swimming lessons are coming back to Gull Bay!! All ages welcome!
Group 1: 5 yrs and under,  time 10:30 am-11:00am,
 group 2: 6yrs -8yrs, time 11:15am-11:45am
 group 3: 10 yrs- 12yrs. time 1:00pm – 1:30pm
 group 4 : 13yrs and up, time 1:45 pm- 2:15pm
Please call Francine or Jayden at the admin office to register!
June 14th, 2021
Yes, it's possible! I am the NNADAP worker here in Gull Bay, come by and visit me.
Patsy Sutherland @ the Gull Bay Health Clinic.
National Native Alcohol & Drug Addiction Program.
June 8th, 2021
Growing calls for a national day of mourning after mass grave found at former residential school
TORONTO — There are growing calls for the federal government to declare a national day of mourning in honour of the 215 children whose remains were found on the site of a former residential school in Kamloops, B.C.
As of Monday morning, more than 28,000 people have signed a petition on Change.org calling for the federal government to do exactly that.
"Survivors of residential schools and their families carry the burden of this tragedy and it is due time that Canada as a whole also share this burden. These deaths impact every person in this land and so it's important that we all come together to mourn," the petition says.
Full Article: https://tinyurl.com/5fzynj9x
March 19th, 2021
Job Posting: Operator in Training
The mandate of the Ontario First Nations Technical Services Corporation (OFNTSC) is to provide engineering and technical advisory services to all Unaffiliated First Nations and Tribal Councils in Ontario. The OFNTSC requires the services of an Operator-In-Training that will assist a First Nations' Water Treatment Plant Operator. The position will be located in an Unaffiliated First Nation community participating in the OFNTSC's HUB program.
Ontario Extends Reopening Ontario Acts Order
Gull Bay First Nation will be featured on a new show called, Power to the People, which starts premiering January 28th on APTN. Host, Melina Laboucan Massimo explores how Indigenous people, values and wisdom are guiding the way to a sustainable, clean energy future. Watch the clip to see Canada's first fully-integrated remote renewable energy micro grid.
In 2008, Clara Weistche from Waskaganish demonstrated how she singes and cooks moose nose. Watch the CBC Indigenous video below!
Kiashke Zaaging Anishinaabek -
Gull Bay First Nation
Kiashke Zaaging Anishinaabek – Gull Bay First Nation is an Ojibway Nation located on the western shores of Lake Nipigon and the surrounding territory. It is roughly a 200 km drive north from the closest urban city of Thunder Bay, Ontario and has a registered population of approximately 1,375 Citizens residing on and off reserve.
Mailing Address
PO Box 29100
1186 Memorial Avenue
Thunder Bay, Ontario
P7B 6P9
Phone: 807.982.0006
Toll Free: 1.855.982.0006
Fax: 807.982.0009
Email: info@gbfn.ca
Business Hours: Monday-Friday 8:30am-12:00pm, 1:00pm-4:30pm